From the Quick Labels tab, simply click the print icon on the dollar amount you want and get the label with a barcode and a price. This is the fastest way to price a whole house faster than ever before. Details on how to use are below.
Quick Labels allow you to simply select a category and a price to quickly print one or many labels to apply to your sale items without the extra steps necessary to actually inventory an item. This will give you all the benefits of the system including barcodes for a fast checkout, reporting on sales data, and best of all, the One-Click Finalization Worksheet that can be used as a settlement statement with your client.
Follow the steps below to create Quick Labels in a flash.
1. Select the client sale that you are interested in from the main dashboard.
2. From the sale dashboard, select the "Quick Labels" tab. You will see a button titled "New Category Labe". Click this button to load the Quick Label prompt.

3. Select your category and then either select a preset price or enter your own custom price. Select the number of labels that you want and then click "Print" to print your quick print labels.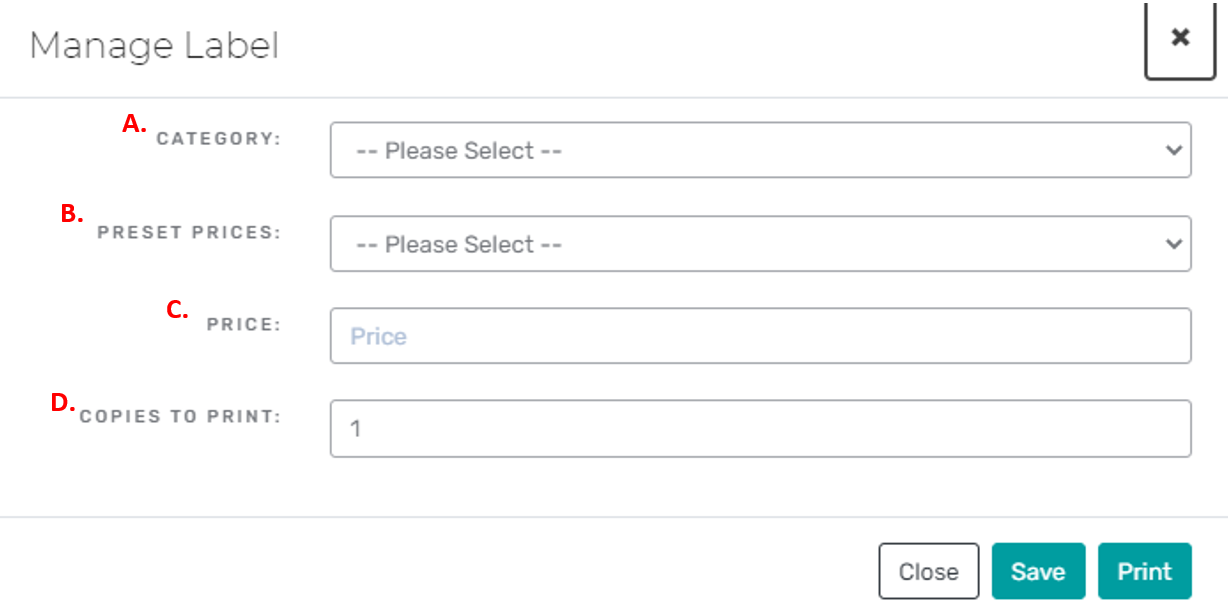 A. CATEGORY: Choose your category to record what category of product you are labeling.
B. PRESET PRICES: Preset prices are available so you can just choose some of the most commonly used price increments for your labels without having to type the price into the PRICE field.
C. PRICE: The price field can be used if you want to quickly type the price that you want on the label instead of using a preset price increment.
D. COPIES TO PRINT: Select the number of labels that you want to print with that category and price.
Finally, you can select save to save this label if you intend to return to the Quick Labels table at a later time to actually print the labels or you can select print to print the labels immediately if you are connected to your label printer.